Are leadership and management the same?
It is easy to confuse leadership and management, but the two are not the same thing. Leadership can be likened to managing things or resources, such as money, people, processes. While management focuses on controlling and organizing tasks and resources (e.g., salaries, facilities, employees).

Leaders focus on inspiring others, motivating them, and creating an environment where they have to thrive and succeed, of which also we can differentiate 5 types of leaders.

A good example is when I was teaching for the first time. At that point in my career, I also worked at an organization called Team Rubicon. In both cases, as I grew in experience and responsibility, it became clear that most of what we do require us to make decisions, and those decisions need to be made quickly, with minimal risk. As a result, some of my own responsibilities were put off by other aspects of the team's work, and this happened quite often.
The challenge and the flexibility.
When the challenges of making these kinds of decisions became too much to handle, I had to find some way to support my teams, particularly our development team. This meant focusing less on myself and more on the direction our company needed to take. We do this so well because they are always busy working to improve people's lives across multiple disciplines and areas of business. There are no two ways around this:

They must be flexible to adapt to whatever changes we need to make, even though these decisions can sometimes change as we evolve or grow. When I teach, it is especially crucial for me to move forward quickly as a teacher, by being able to meet new needs and responding quickly to those needs. For me, the biggest impact I've seen my teams achieve has been having more autonomy and flexibility.

We tend not to respond as quickly to opportunities if we feel like we're simply moving out of their scope of influence. By identifying our team's work, aligning our goals, and supporting our growth and development, we are able to create a culture where every person has greater visibility and opportunity to do their part for the betterment of our customers and clients.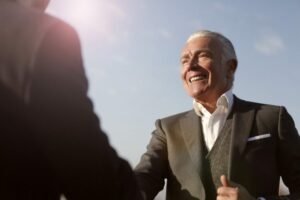 Leaders are to make things happen
A leadership role may look different in each area, but the common element in all leadership roles is one: taking action. Leaders must encourage, provide support, manage, and lead without fear of failure, and then show the power of results.

Because when leaders fail, the consequences aren't always easy to bear, they leave wounds in their wake and create stress that only serves to breed more confusion.

Learning how to navigate through each stage of your journey will teach your leaders to think critically and find clarity.

If you're already on the "leadership" level, congrats! You've got everything figured out. If you want to learn how to transform into a leader, check out the book, Becoming A Leader (2021).

If you can relate, try These 5 Steps To Be More Human — An Online Guide For Business, From A Former CEO & Co-CEO.
5 types of leaders:
Leadership can be classified into five main types:
Transformational,
People-Centered,
Participative,
Transactional, and
Affirming.
According to the Harvard Business School's 2020 edition of Harvard Business Review, Transformational leadership occurs in a situation when a manager does something that isn't clearly defined. Instead, the job role is shifted and responsibilities shift to ensure the success of the task given.

Transformational leadership is about setting visions, values, and purpose, encouraging teamwork, and developing trust.

People-Centered Leadership is about empowering people and giving them space and support to make the best decisions regarding themselves and their organizations.

Participative leaders set a clear goal or vision along with the process and give freedom, control, and authority to people. They use feedback to develop effective strategies while affirming Leaders create value, nurture, and maintain strong relationships within groups and teams.

Both participative and transformational leaders often need to motivate others. And although there are few differences between the three types of leadership, the ultimate difference lies in their ability to inspire others.
Transformational Leadership
Transformational leadership is a high-level type of leadership characterized by active participation, active listening, active brainstorming, and active communication. Transformational leaders are highly focused on building bonds between themselves, followers, and partners.

They bring enthusiasm and attention to others and help create connections to better build their teams. Transformational leaders tend to demonstrate traits like courage, empathy, creativity, selflessness & humility, and self-awareness. If you are looking for someone who can push the boundaries, this is the right candidate. But before you decide to hire him, remember that he is a natural introvert and sometimes needs days off from interacting with people due to his health issues.

So, how would you get along with him? Do you need to build confidence on a relationship level? Do you need to understand the nuances of emotional intelligence? Does he have the personality traits to make the perfect pair? Here are some key traits:
He doesn't talk much
But he listens well
He is very assertive
He doesn't like being reprimanded
He likes being talked over
He wants to express himself
He loves to entertain people
He is good at delegating tasks
He likes to keep things simple
He is spontaneous
He never thinks twice about saying something
He thrives on uncertainty
He enjoys change
He likes learning about life
Transformational leaders are great communicators and problem solvers, but their biggest challenge is building strong relationships. When a conversation gets personal, it may start to become difficult to manage. One of the reasons for this is that they are always dealing with emotional issues and physical concerns, which lead to a loss of touch or the inability to communicate freely.

That lack of engagement, coupled with a misalignment of the behaviors they should have in order to become successful, leads to misunderstandings and strained relationships with others. Even if these problems don't manifest in some capacity, they still impact daily, professional decisions and relations with coworkers. But fortunately, most leaders don't show these signs of depression.

What happens when a transformational leader becomes depressed? What happens if he is emotionally unavailable? What happens when people are treated differently because of their gender or religion? What happens when a leader suffers from burnout? These are just some of the questions and problems that arise from the lack of connection.
People-Centered Leadership
A people-centered leader is about creating spaces for the whole group to discuss ideas and decisions. People-centered leaders allow their peers to have the time to share ideas and perspectives that are beneficial for everyone involved. They are open to listening to and considering the opinions of others and embrace collaboration, creativity, and innovation.

People-centered leaders often show traits such as genuine interest in others as well as in making them happy; providing structure for their colleagues ('governing'); allowing people to make mistakes and grow from them; maintaining fairness in the workplace; creating an environment where team members feel empowered; creating environments where they care about others; prioritizing individual interests rather than focusing on overall corporate objectives; and developing ways to connect deeply with others.

Unlike transformational leaders, people-centered leaders are likely to suffer from depression, anxiety, addictions, mood disorders, anxiety, body dysmorphia, and eating disorders.
Participative Leadership
Participative leadership is about helping individual contributors to achieve high performance. It encourages participation in decision-making processes, including sharing expertise, knowledge, time & information. Participative leaders are willing to take initiative, accept failures, offer feedback and training, and are willing to make adjustments to meet each unique employee's strengths and weaknesses. These types of leaders are motivated, supportive and cooperative, and are interested in improving communication, team spirit, motivation, and efficiency.

Participants in collaborative environments often enjoy autonomy, control, and ownership of their own time, skills, and abilities. They feel energized and inspired by their colleagues while being supported and encouraged by them. Participative leaders are comfortable with ambiguity and experimentation. Most of their best attributes stem from their willingness to incorporate others, both internally and externally, into decision-making processes. Their main characteristics include:
They are engaged
They support and believe in others
They are authentic
They appreciate diversity and inclusion
They encourage vulnerability
They don't expect perfection
They promote teamwork
They advocate for autonomy and empowerment
They take risks
They seek out the best practices and principles
They are not afraid to take chances
They are resilient
They have a negative attitude toward themselves
They are generous
They are supportive
They are kind
They are able to make mistakes
They are able to collaborate effectively
Participative leaders must be able to recognize strengths and capitalize on their talents, as well as weaknesses and mistakes, and challenges. While being proactive and positive, they also need to be transparent, honest, and empathetic.
Transactional Leadership
The next step up in leadership development is Transactional Leadership. With Transactional Leadership, a leader is in charge of changing plans as they go from idea to reality. He or she manages projects, workers, resources, and plans and then reviews for accuracy and then pushes back against obstacles. It is essential that Transactional Leadership leaders learn not to let barriers stand in the way of progress.

They use methods and tools to overcome obstacles, adjust plans when necessary, and make sure timelines are met. In addition to these important steps in leadership development, Transactional Leaders also need to know how to deal with emotions. Emotions can be a powerful force that holds leaders accountable and makes or breaks projects and teams. When they feel overwhelmed.
Affirming Leadership
Affirming Leadership: The Best Way to Lead
What is affirming leadership?
Affirming leadership is a style of leadership that focuses on the development of people and teams. This type of leadership is based on the belief that all people have something to offer and that they should be affirmed and encouraged to grow into their full potential.
Affirming leaders are friendly, approachable, and nice to be around. They're upbeat, easygoing, and positive. Affirming leaders work to create workplaces that are harmonious and caring, where everyone is respected. This type of leader is concerned with finding out what makes people happy and then working to help them achieve it.
Why does affirmational leadership work?
Affirmational leadership is rooted in the idea that people have their best experiences when they feel good about themselves and the company they're working for. It's not about being a dictator but providing an environment where people are inspired to do their best work.
Overall, there are many reasons why affirmational leadership is great. For one thing, it leads to better decisions. When you're a team of friends, you're more likely to make decisions that benefit everyone involved. Additionally, this type of leadership creates loyalty from employees and fosters collaboration. Affirmational leaders also cultivate kindness in their teams and provide an environment where everyone feels valued. The bottom line? This type of leadership has proven to be successful time and time again.
Main characteristics of affirming leader
Affirming leaders care about people, and they want their team to thrive. They have good communication skills and are able to calmly resolve conflicts. Affirming leaders focus on relationships and creating environments where everyone feels valued. They don't micromanage, but they take the time to get to know the people on their teams.
Affirming leaders can be assertive when needed, but they value balance. They want their employees to feel free to speak up when they have a suggestion or concern. This is important because it means there is less chance of employee burnout or turnover in the long run for your business.